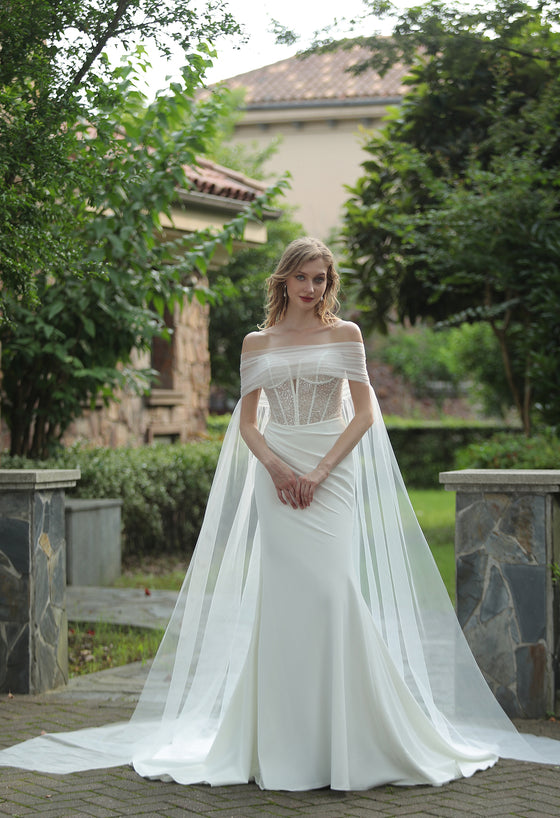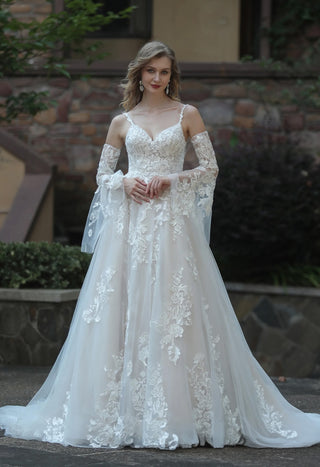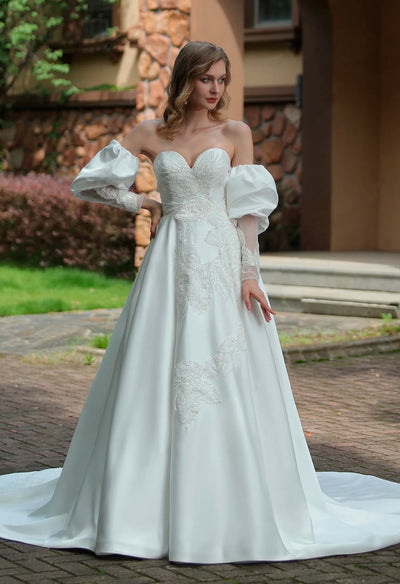 Brand New Wedding Dresses
Spring 2024 Wedding Dress Collection
The hottest wedding dresses in town have arrived! Step into Bergamot Bridal's 2024 Spring Wedding Dress Collection and get ready to be blown away! Our bridal shop in London, Ontario is a dream come true for brides-to-be that are shopping for their perfect wedding dress. From simple and trendy styles to timeless classics, we've got the perfect bridal gown for your big day. Picture yourself in a stunning lace wedding dress, turning heads as you walk down the aisle. With figure-flattering silhouettes and exquisite details, you'll feel like a true queen on your special day. Don't settle for any old wedding dress, click now to explore our fabulous selection of wedding dresses and make your dreams a reality.
View Spring Collection
Have You Seen This yet?
Boho Lace Wedding Dress With Spaghetti Straps and Removable Bell Sleeves
Effortless style emanates from this allover graphic lace wedding dress made for that casual summer beach wedding. The gown features thin spaghetti straps that grace the shoulder and open into a flattering V-neckline. To complete this sexy sheer bodice, a deep V-back detail dives nearly to the waist. Removable bell sleeves make this any boho brides dream come true.
Boxing Week Special
Bridesmaid Dress Sale
Our loss will be your gain!
Our private label bridesmaid designer will no longer be available to order as of December 24th. This means all the sample dresses in store need to find new homes.
Whether you need a new evening dress, prom dress, or a new dress for your New Years Eve party come shop our dress sale!
December 28-31 all dresses in this line will be $90 pre dress.
Size 12-30 and lots of colours to choose from!
Why Our Bridal Shop For Your Wedding Dress...
Bergamot Bridal, a premier bridal shop in London, Ontario, is a haven for brides seeking exquisite wedding dresses, bridesmaid dresses, and wedding accessories. As a top-rated bridal shop in the area, we take pride in helping our customers find their perfect dress for their big day.
Whether you're looking for a simple, trendy design or timeless classics, we've got you covered. We believe that every bride deserves to feel confident and radiant on her special day, which is why wedding dresses to fit every style and pride ourselves on being size inclusive! We offer a wide range of sizes, from straight sizes to plus sizes in all of our wedding dresses and bridesmaid dresses. Our dedicated expert bridal consultants are here to provide personalized assistance and help you find the perfect wedding gown that flatters your figure and showcases your unique style.
What sets us apart from other bridal shops in London is our 1on1, intimate and luxury experience we offer our brides topped off with a commitment to customer satisfaction. Don't believe us? Our Google review ratings speak volumes about the exceptional service and unforgettable experiences we offer. We are humbled by the positive feedback and grateful for the trust our customers place in us.
In addition to our glowing reviews, we are honored to have been voted a top bridal shop in London, Ontario. It's a testament to our unwavering commitment to delivering excellence in bridal fashion.
At Bergamot Bridal, we understand that wedding planning can be overwhelming, so we strive to create a stress-free and enjoyable experience. Our dress shop is conveniently located in downtown London, Ontario, making it easy for brides throughout the region to find their dream wedding dress.
Whether you're searching for the perfect wedding dress, bridesmaid dresses that compliments your theme, mother-of-the-bride dress, or exquisite wedding accessories to add the finishing touches, our knowledgeable bridal consultants are here to assist you every step of the way.
We invite you to visit our bridal store in London, Ontario, and discover the magic that awaits. Let us help you bring your wedding vision to life with our exquisite selection, exceptional service, and a warm, welcoming atmosphere!
Click To Explore Your Favourite Wedding Dress Style
Top Wedding Tips Every Bride Needs To Know View all